SOUTH SULAWESI (CELEBES) TOURS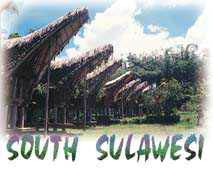 Visit :
North Sulawesi (CELEBES) Tourism
Central Sulawesi (CELEBES) Tourism
South Sulawesi (CELEBES) Tourism
South East Sulawesi (CELEBES) Tourism

Download High-Res :
NORTH CELEBES MAP
TORAJA RHAPSODY : SIC - 002
4 days - 3 nights

A tour that will give you extraordinary and most enjoyable moments.
Day- 1 (L-D):
Morning arrival at Hasanuddin airport, UJUNG PANDANG. Drive for 9 hours by minibus to TORAJA through BUGIS villages. Overnight at hotel in TORAJA.
Day - 2 (B-L-D):
Morning tour to LEMO, SIGUNTU, LONDA and KE'TEKE'SU. Afternoon tour to PALAWA and MARANTE'.
Day - 3 (B-L-D):
Return to UJUNG PANDANG and overnight at hotel.
Day - 4 (B):
Transfer to the airport for your next destination.

Note: Itinerary can be reversed, slaying overnight in UJUNG PANDANG on Day 1 instead of Day 3. However if tour is reversed, lunch is not included on Day 1.

---

SOUTH-CENTRAL SULAWESI OVERLAND : OPS - 071
4 days - 3 nights

This programme is an extension of your TORAJA TOUR.
Day- 1 (D):
At 07.30 depart to PENDOLO by the way to PALOPO. It takes about 7 hours driving along the 270 kms of mountain road. Lunch en route at local restaurant. In the afternoon arrive at the southern part of POSO lake side. Dinner and overnight at a very simple local lodging.
Day- 2 (B-L-D):
A fullday boat trip, visiting:

National Orchid Park in BANCEA and swimming at SIURI beach
Floating stone (Batu Apung)
Buffalo stone (Batu kerbau)
Grindstone (Batu Asa)

Lunch box will be provided, dinner and overnight at Siuri Cottage or Pamona Indah Hotel in Tentena.
Day- 3 (B-L-D):
After an early breakfast, drive to PALU the capital of Central Sulawesi Province, by way of POSO, PARIGI: It takes about 8 hour driving along 286 kms of mountain road. Lunch en route, dinner and overnight at PALU GOLDEN HOTEL.
Day - 4 (B):
After breakfast, free until time for transfer to your next destination (MANADO or BALIKPAPAN or UJUNG PANDANG to connect your onward flight).

VideosTravelGuide.com : Find on here thousands of Videos from many interesting places from around the world